OPTIFAST® — The Serious Solution for Weight Loss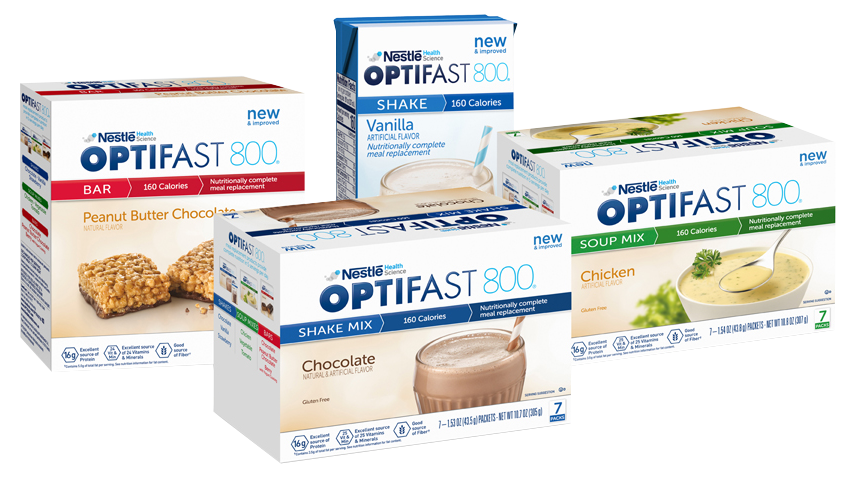 OPTIFAST® is a medical weight loss program that is clinically proven to help people achieve long-term weight management. It breaks down daily calories into 4-6 meals spaced evenly throughout the day, making it easier to control appetite and maintain stable blood sugar levels.
The program offers many benefits, including portion-sized, pre-packaged, nutritionally balanced meals that save time on meal preparation and have a lower calorie count. Patients on OPTIFAST® lose weight faster than those on other plans, with an average of 52 pounds lost in 22 weeks in a clinical trial.
OPTIFAST® has two formulations: OPTIFAST 800® and OPTIFAST HP® (High Protein). OPTIFAST HP® is recommended for patients with higher lean muscle mass, and your healthcare provider can determine which program is best for you.
Benefits of the OPTIFAST Plan
Maintain very low in calorie intake while providing complete nutrition.
Calorie intake is tightly controlled and the pace of weight loss is remarkable–most patients achieve a loss of 10% of their starting weight within 6 weeks.
Simple, uncomplicated approach makes your plan more manageable–no need for grocery shopping, meal planning, and food preparation, cooking or cleaning up after meals.
After a period of time on full OPTIFAST® formula, table food will be gradually reintroduced while we work on the eating and activity habits that will produce continued success.
Patients choosing this diet are highly motivated, often lead very busy lives which complicate meal planning, and are willing to forego table food for a short period of time in order to jump-start their weight loss.
"I embarked on a succession of fad diets for nearly 10 years; with each diet, I engaged in a ferocious yet familiar cycle of temporarily losing and regaining weight. The OPTIFAST Program not only dispelled imprudent myths that allowed me to deflect my personal responsibility but also allowed me to tap an inner strength and confidence that I didn't know existed in me."
"When my doctor ordered oxygen for me 24/7, I knew that I had to do something to save my life. Several of my doctors suggested weight loss surgery, but one suggested the OPTIFAST Program. I chose OPTIFAST and I am so happy that I did!"
"My wake-up call was hearing the surgeon tell me that my ruptured hernia was caused by my weight and that it could happen again if I didn't do something. Thankfully my nephrologist referred me to the OPTIFAST clinic and I made the phone call that changed my life."